IPL 2023: Sunil Gavaskar opens up about his prompt decision to take MS Dhoni's autograph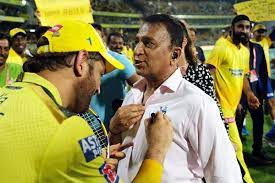 Recently, batting legend Sunil Gavaskar stunned one and all by taking the autograph of former Team India and current Chennai Super Kings (CSK) captain MS Dhoni.
Following the loss against Kolkata Knight Riders (KKR) in their last Indian Premier League (IPL) 2023 encounter, Dhoni shared the heartwarming moment with Gavaskar. When Dhoni and CSK players were doing a lap around the Chepauk to give goodies to the fans after the match, Gavaskar, who is currently part of the commentary team for IPL 2023, ran towards the veteran wicketkeeper-batsman and took his autograph on his shirt. Following the incident, both the greats also shared a hug.
Later, Gavaskar revealed the intention behind his prompt decision to take the autograph. As per Gavaskar, he was not prepared for it and as soon as he got to know about it, he borrowed a pen to get the autograph.
"I borrowed a pen as soon as I heard that CSK players are going to take a lap around the Chepauk. So, I kept it with me. Thank you, so much," said Gavaskar during an interview.
"Who doesn't love Dhoni? What he has done for Indian cricket over the years is just amazing. The most important thing for me is the kind of role model he has been. There are so many youngsters in India who look up to him. The way he has handled himself has been absolutely fantastic," he added.