Irrfan would have got an Oscar if Hollywood films were made in Hindi, says Sutapa Sikdar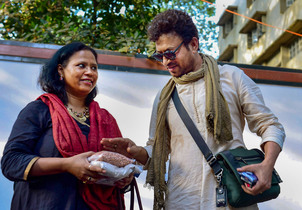 New Delhi, May 27 (PTI) If Hollywood movies were made in Hindi, Irrfan Khan would have got an Oscar, writer Sutapa Sikdar would often tell her actor husband, as she believed English language was a "barrier" for him in the West.
Sutapa in an interview with journalist-author Shubhra Gupta, published in Pan Macmillan India's upcoming book, "Irrfan: Life in Movies", said the iconic actor took a while to get comfortable with the English language.
"His mother tongue was Hindi, he thought in Hindi. So, I personally felt it took him a while to be comfortable in the English language. Very strictly my point of view. I feel that language was a barrier," said Sutapa, as quoted in the book.