"Voting a matter of choice": Delhi High Court refuses to entertain plea by BJP's Ashwini Kumar Upadhyay for compulsory voting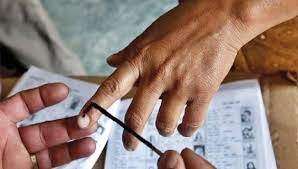 Upadhyay withdrew the plea after the Court said that it will impose costs.The Delhi High Court on Friday refused to entertain a public interest litigation (PIL) petition filed by BJP leader Ashwini Upadhyay seeking compulsory voting in parliamentary and assembly elections [Ashwini Kumar Upadhyay v Union of India & Ors].
A Division Bench of Chief Justice Satish Chandra Sharma and Justice Subramonium Prasad said that voting is a choice and judges are not lawmakers who can pass such directions.
The bench added that it cannot force a person in Chennai to come back to his home town in Srinagar and vote there.
"You want us to direct the police catch him and send him to Srinagar," the bench asked.
Upadhyay said that he will not press his prayer for compulsory voting but the bench was adamant.
"It can't be that when you are confronted with something, you will say you are not pressing it," CJ Sharma remarked.
The Court also remarked that is being flooded with such PILs.
"When I check the cause list, we are flooded with such cases," the bench said.
The bench further remarked that if Upadhyay does not withdraw his plea, it will impose costs.
Upadhyay then proceeded to withdraw his plea.
In his plea, Upadhyay argued that making voting compulsory will improve voter turnout, promote political participation and improve the quality of democracy.
"It ensures that every citizen has a voice and that the government is representative of the people's wishes. When voter turnout is high, the government is more accountable to the people and is more likely to act in their best interests," the plea stated.
It further said that compulsory voting ensures that elected representatives are chosen by a larger and more representative group of people, which will enhance the legitimacy of the government as well as the quality of democracy.
Upadhyay cited examples of countries like Australia, Belgium, and Brazil, which have implemented compulsory voting and said that that they have seen significant increases in voter turnout and improvements in the quality of democracy.
The PIL sought a direction to the Central government and the Election Commission of India (ECI) to take steps to ensure compulsory voting in Parliament and assembly elections.
In the alternative, the plea requested the Court to direct the ECI to use its plenary power under Article 324 of the Indian Constitution to increase voting percentage.
Alternatively, it sought a direction to the Law Commission to prepare a report on compulsory voting.