Neeraj Chopra number one in World Athletics men's javelin ranking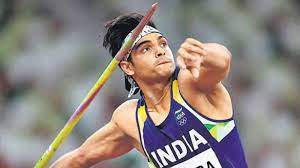 New Delhi, My 22 (PTI) Olympic champion Neeraj Chopra became the world number one for the first time in his career in the latest men's javelin throw rankings issued by the World Athletics.
Chopra topped the charts with 1455 points, 22 ahead of Grenada's reigning world champion Anderson Peters (1433).
Tokyo Olympics silver medallist Jakub Vadlejch of Czech Republic was third with 1416 points.