Not in PM race, working to get Opposition parties together: Sharad Pawar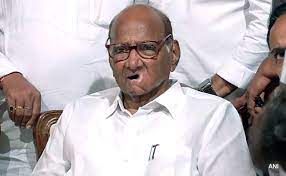 Pune, May 23 (PTI) Nationalist Congress Party chief Sharad Pawar has said he is not in the race to become prime minister and asserted the Opposition wants a leadership that would work for the betterment of the country.
Speaking on Monday at a condolence meet for Ram Takawale, the Pune University's vice chancellor who passed away recently, Pawar said opposition parties might face a little task of projecting one person as the prime ministerial candidate if they come together.
.
"I am putting efforts to get the Opposition together. I am not in the race to become the prime minister as I am not contesting the next (Lok Sabha) election," he told reporters.
On seat-sharing with the Congress and the Shiv Sena (UBT), which are part of the Maha Vikas Aghadi, Pawar said, "Recently, a meeting was held at my residence. Leaders from the Maha Vikas Aghadi will decide on it.".
"Uddhav Thackeray, Sonia Gandhi or Congress chief Mallikarjun Kharge, and I will sit together to discuss more about it," he said on seat-sharing.
The tenure of several civic bodies in Maharashtra got over early 2022, but polls were not held due to the coronavirus pandemic.
The Lok Sabha elections are due in 2024, and the Maharashtra Assembly polls are also due in the later part of next year. PTI COR BNM.