Ukrainian army reports several explosions in Kyiv, urges people to stay in bomb shelters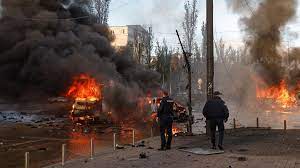 Ukraine's army reported several explosions in Kyiv and other parts of the country early Thursday morning, urging people to stay in bomb shelters.
"According to preliminary information, the fall of debris was recorded in the Darnytskyi district of the capital. Data on victims and destruction are currently being verified," Serhii Popko, head of Kyiv's civil and military administration, wrote on Telegram, noting that anti-aircraft defences were working.A fire broke out at a business in the city's Darnytskyi district as a result of falling debris, and an explosion was recorded in the Desnyansky district, according to Kyiv's mayor, Vitali Klitschko.The military also reported "cruise missile" attacks in the central Vinnytsia region, and local media reported explosions in Khmelnytskyi, about 100 kilometres further west.
An air alert has been put in effect throughout Ukraine, the military said.