Tremendous excitement for PM Modi's historic state visit, says top presidential aide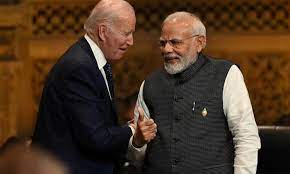 Washington, Jun 13 (PTI) There is tremendous excitement for Prime Minister Narendra Modi's State Visit here which will highlight many elements in the US-India strategic relationship, a top US presidential aide has said. Modi has been invited by President Joe Biden and First Lady Jill Biden for a state visit, which will include a State Dinner on June 22.
"There's tremendous enthusiasm and excitement about the upcoming visit. Large numbers of stakeholders in the US-India relationship are all coming to Washington to celebrate the importance of our ties and take necessary steps to take the bilateral relationship even further," Kurt Campbell, Deputy Assistant to the President and Coordinator for the Indo-Pacific, told PTI in an interview on Monday. On Monday Campbell, 65, joined National Security Advisor Jake Sullivan for a trip to India to hold the next round of the initiative on Critical and Emerging Technologies (iCET).
The path-breaking ICET that ropes in technology as a key strategic element to the India-US relationship was launched by Sullivan and his Indian counterpart National Security Advisor Ajit Doval early this year. A group of American CEOs are also travelling to New Delhi to participate in the talks. The two sides are expected to be discussing a range of issues associated with enhanced American investment in critical Indian industries and technologies. "I can say after spending substantial time with the president and all the key players, there really is a rare sense of anticipation for what we believe will be a historic visit," Campbell said in response to a question.