Biden family to host intimate dinner for Modi on June 21; hot ticket state dinner on June 22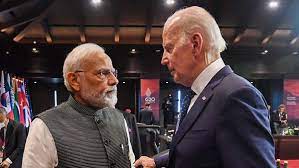 Washington, Jun 13 (PTI) The Biden family is planning to host an intimate dinner for Prime Minister Narendra Modi on June 21, a day before the much-in-demand State Dinner at the White House, a senior administration official has said.
Modi has been invited by President Joe Biden and First Lady Jill Biden for an official state visit.
The historic visit, among other things, would include an impressive welcome ceremony on the South Lawns on June 22, which later in the night would also become the venue for the State Dinner that would be extraordinarily glittery with great entertainment, the official, familiar with the planning of the high-profile trip said.