Film will definitely be made on Chandrayaan-3 mission: Hema Malini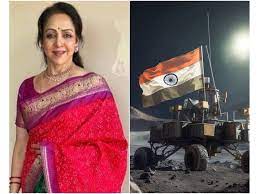 New Delhi, Aug 24 (PTI) Veteran actor and politician Hema Malini on Thursday said like every Indian, she is also happy with the successful landing of Chandrayaan-3 on the Moon, an event she hopes is translated into a feature film.
India's Moon mission Chandrayaan-3 touched down on the lunar south pole at 6.04 pm on Wednesday, making it the first country to land on the uncharted surface.
The 73-year-old actor cited the song "Chalo Dildaar Chalo Chand Ke Paar Chalo" from the 1972 classic film "Pakeezah", which depicted the dream of a couple of crossing over to the Moon.