Amarrass Music Tours to return to hills from June 23-25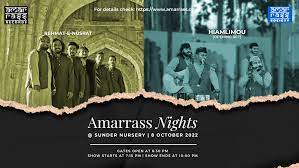 New Delhi, Jun 13 (PTI) Amarrass Records is returning for its music tour to the hills from June 23-25 with bands Rehmat-e-Nusrat and HimaliMou set to enthrall the audience at a serene riverside resort in village Chanfi of Uttarakhand.
Amarrass Records Music Tour, organised on the banks of river Kalsa about 18 km from Bhimtal, is a two-day exclusive experience for music and nature enthusiasts.
It takes place at the Soulitude By The Riverside resort in Chanfi, with Rehmat-e-Nusrat performing classic poetry and Sufi kalams and HimaliMou presenting folk compositions from different regions of Uttarakhand and border areas of Nepal.