UP Police Get Gangster-Politician Atiq Ahmed's Custody, Hours After He Refused To Leave Jail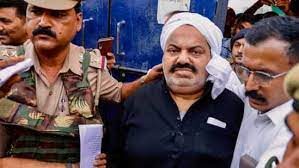 Gangster-turned politician Atiq Ahmed is being moved from a jail in Gujarat to Prayagraj in Uttar Pradesh. The 60-year-old had refused to move, fearing for his life, sources had said. He meant to seek sentencing by video conference in a kidnapping case. The former MLA from Uttar Pradesh -- currently in Gujarat's Sabarmati jail -- fears he will be killed, either by a staged accident or an encounter, while being taken to Prayagraj, sources said.
Brajesh Pathak, the Deputy Chief Minister of Uttar Pradesh, said, "We are following the orders of the court. Whatever the court says will be done. These kinds of talks don't matter".
Atiq Ahmed's sentencing in the Umesh Pal kidnapping case is due on March 28. Another man allegedly involved in the murder case was shot in an encounter earlier this month.