TikTok CEO grilled for nearly 6 hours by skeptical US lawmakers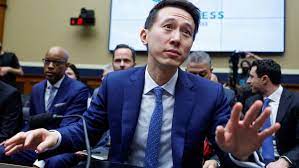 A nearly six-hour grilling of TikTok's CEO by lawmakers brought the platform's 150 million US users no closer to an answer as to whether the app will be wiped from their devices.
US lawmakers on Thursday pressed Shou Zi Chew over data security and harmful content, responding skeptically during a tense committee hearing to his assurances that the hugely popular video-sharing app prioritises user safety and should not be banned due to its Chinese connections.
In a bipartisan effort to rein in the power of a major social media platform, Republican and Democratic lawmakers hurled questions on a host of topics, including TikTok's content moderation practices, how the company plans to secure American data from Beijing, and its spying on journalists.
Chew spent most of the hearing attempting to push back assertions that TikTok, or its Chinese parent company, ByteDance, are tools of the Chinese government. But he failed to answer uncomfortable questions about human rights abuses committed by China against the Uyghurs, and seemed taken aback by a TikTok video displayed by one lawmaker that advocated for violence against the House committee holding the hearing.
The rare public appearance by the 40-year-old Singapore native comes at a crucial time for the company. TikTok has ballooned its American user base to 150 million in a few short years, but its increasing dominance is being threated by a potential nationwide ban in the US and growing fears among officials about protecting user data from China's communist government.