Sunil Chhetri announces wife's pregnancy in goal celebration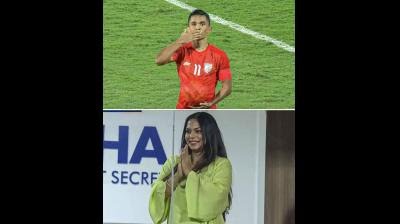 Bhubaneswar: Indian football team captain Sunil Chhetri announced his wife's pregnancy during a goal celebration on Monday.
The Blue Tigers played Vanuatu at Kalinga Stadium in Bhubaneswar, winning the tie 1-0.
Chhetri scored the winning goal at the 81st minute much to the delight of the Indian fans.
In his goal celebration, Chhetri picked up the ball, put it under his shirt, on his belly, ran to the part of the field where his wife Sonam Bhattacharya was standing in the stands and blew flying kisses to her.
This was Chhetri's 86th goal for India. The match was played as part of the Intercontinental Cup.