PM Modi arrives in Egypt on two-day state visit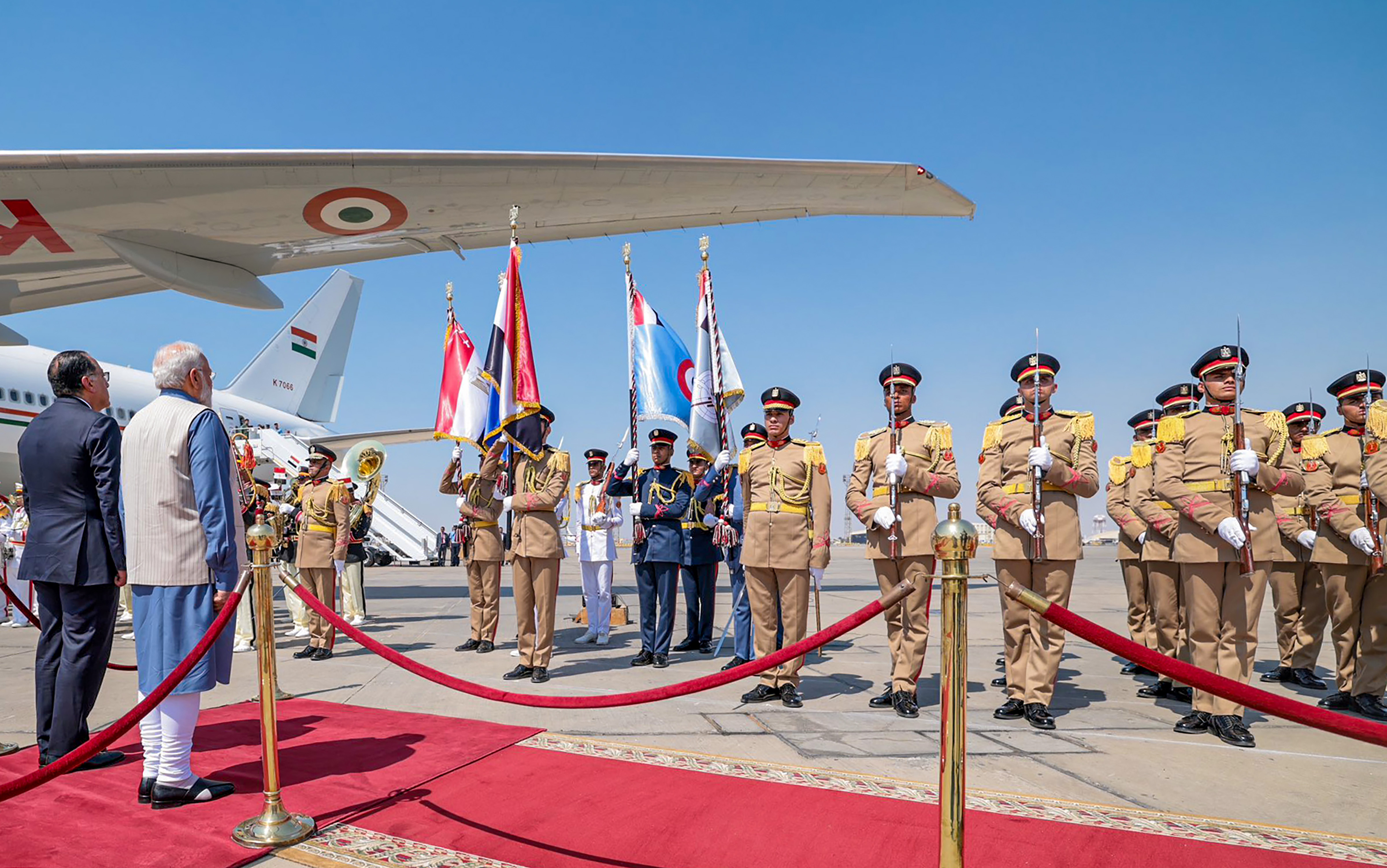 Cairo, Jun 24 (PTI) Prime Minister Narendra Modi arrived here on Saturday for a two-day state visit during which he will hold talks with the Egyptian leadership, including President Abdel Fattah El-Sisi, as the two nations seek to enhance their strategic partnership.
Modi is visiting Egypt at the invitation of Egyptian President El-Sisi. This is the first bilateral visit by an Indian Prime Minister to Egypt in 26 years.
In a special gesture, Modi was welcomed at the airport here by Egypt's Prime Minister Mostafa Madbouly with a warm embrace. He was accorded a ceremonial welcome and a Guard of Honour upon his arrival.
"I am confident this visit will strengthen India's ties with Egypt. I look forward to talks with President Abdel Fattah El-Sisi and attending other programmes," Prime Minister Modi tweeted after landing in Cairo.
"I thank Prime Minister Mostafa Madbouly for the special gesture of welcoming me at the airport. May India-Egypt ties flourish and benefit the people of our nations," he said.
Waving the Indian tricolour, members of the Indian community welcomed the Prime Minister to chants of 'Modi, Modi' and 'Vande Mataram' when he reached the hotel here.
An Egyptian woman dressed in a saree greeted Modi with the popular song 'Yeh Dosti Hum Nahi Chhodenge' from the movie 'Sholay'.
The Prime Minister was seen listening to the song appreciatively and expressed surprise when the lady said she knew very little Hindi and had never visited India.
"Kisi ko pata bhi nahi chalega ki aap Misr ki beti ho ya Hindustan ki beti ho ((Nobody will be able to tell whether you are an Egyptian or Indian woman)," Prime Minister Modi said.
Modi will meet Egyptian President El-Sisi on Sunday.
The Prime Minister will join a roundtable discussion with the India Unit of the Egyptian Cabinet led by his counterpart Madbouly.
Modi will call on Egypt's grand mufti Dr Shawki Ibrahim Abdel-Karim Allam and later hold discussions with prominent Egyptian intellectuals.
On Sunday, Modi will visit the 11th Century Al-Hakim mosque, which was renovated with assistance from the Dawoodi Bohra community.
The Bohra community in India actually originated from the Fatima dynasty and they have renovated the mosque from the 1970s onwards.
He will visit the Heliopolis War Cemetery to pay respects to the Indian troops who gave their lives in the ultimate act of valour for Egypt during World War-1.
This memorial was built by the Commonwealth, although it is dedicated to the 3,799 Indian troops who lost their lives in different First World War conflicts in Egypt.
The Prime Minister's "very quick reciprocal visit" to Egypt was taking place within six months of President El-Sisi's visit to India as the chief guest of the Republic Day celebrations this year.
El-Sisi is also scheduled to travel to India in September for the G-20 Summit where Egypt has been invited as a special guest.