PM Modi, Albanese visit Sydney Harbour and Opera House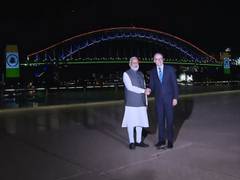 The Sydney Harbour Bridge and the Opera House here were illuminated with the Indian tricolour to welcome Prime Minister Narendra Modi who visited the iconic landmarks on Wednesday.
Prime Minister Modi was accompanied by his Australian counterpart Anthony Albanese during his visit.
The Sydney Harbour Bridge is famous for being the world's largest steel arch bridge. It is an imposing steel arch bridge extending from the Central Business District to the North Shore and offers a spectacular view of the Sydney Opera House and the surrounding area of the Sydney Harbour Bridge.
The Opera House is Sydney's best-known landmark. It is a multipurpose performing arts facility. The building also houses restaurants and a professional recording studio. In 2007 the Opera House was designated a UNESCO World Heritage site.
The lighting up of the two landmarks comes a day after Modi was accorded a rock star welcome with a 21,000-strong crowd greeting the Indian leader at a diaspora event in Western Sydney on Tuesday night. The diaspora event was also attended by Prime Minister Albanese.
Earlier, Modi and Albanese met in Sydney on Wednesday for bilateral discussions that deepened the friendship between the two nations.