Karnataka cabinet expansion: 24 MLAs to be sworn in as ministers today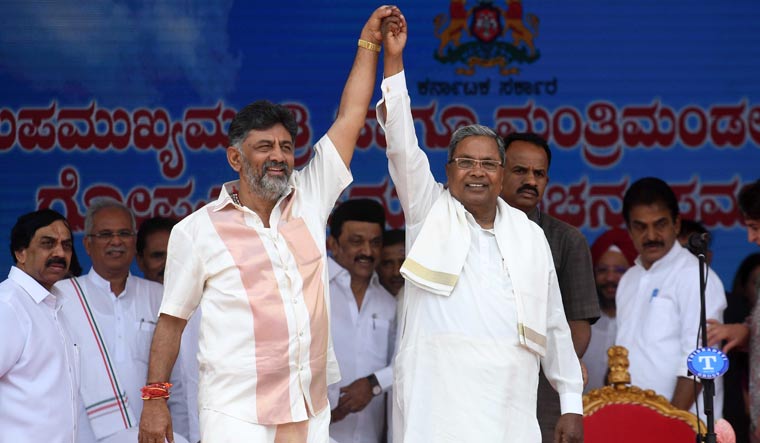 A week after assuming power in Karnataka, the Congress on Friday released a list of 24 legislators who will be sworn in as ministers on May 27, according to party leaders.The Karnataka government can have 34 ministers. Ten of them, including Chief Minister Siddaramaiah and his deputy D.K. Shivakumar, were sworn in on May 20.

MLAs H.K. Patil, Krishna Byregowda, N. Cheluvarayaswamy, K. Venkatesh, H.C. Mahadevappa, Congress working president Eshwar Khandre and former state Congress president Dinesh Gundu Rao are among those who will take oath on Saturday.
Others on the list are Kyathasandra N. Rajanna, Sharanabasappa Darshanapur, Shivanand Patil, Ramappa Balappa Timmapur, S.S. Mallikarjun, Shivaraj Sangappa Tangadagi, Sharanaprakash Rudrappa Patil, Mankal Vaidya, Laxmi Hebbalkar, Rahim Khan, D. Sudhakar, Santosh Lad, N.S. Boseraju, Suresha B.S., Madhu Bangarappa, M.C. Sudhakar and B. Nagendra.
Lakshmi Hebbalkar, Madhu Bangarappa, D. Sudhakar, Cheluvaraya Swami, Mankul Vaidya and M.C. Sudhakar are close to Shivakumar, according to Congress sources.
The Congress's list figures names of six Lingayats and four Vokkaligas.
Three MLAs are from Scheduled Castes, two from Scheduled Tribes and five from Other Backward Communities - Kuruba, Raju, Maratha, Ediga and Mogaveera.
In Dinesh Gundu Rao, Brahmins have also got representation in the cabinet.
Seven ministers each are from Old Mysuru and Kalyana Karnataka regions, six from Kittur Karnataka region and two from central Karnataka.
Siddaramaiah has struck a balance by giving caste and region-wise representation along with giving due respect to senior as well as junior MLAs, an official statement said.
He also said the cabinet will have eight Lingayats. Within them, different sub-sects of the community have been given representation.
There will be five Vokkaligas, including Shivakumar, the statement said.
The cabinet will have nine Scheduled Caste ministers, it said.
The portfolios have not been allotted yet. State Minister K.H. Muniyappa said the portfolios will be announced by Saturday evening.
Both Siddaramaiah and Shivakumar have been in Delhi for the last three days and have held several rounds of discussion with the party leadership.
The names of the 24 MLAs were decided after hours of hectic deliberations between Siddaramaiah, Shivakumar and the top central leaders, including AICC general secretaries K.C. Venugopal and Randeep Surjewala.
Congress president Mallikarjun Kharge and former party chief Rahul Gandhi gave the final nod to the list.
Earlier, the two Karnataka leaders also met Sonia Gandhi, for the first time after government formation in the state.
Differences between Siddaramaiah and Shivakumar had emerged over names of probable ministers but these were sorted out during the discussions, the sources said.
Meanwhile, all the leaders left for Bengaluru from Delhi for the oath-taking ceremony of the new ministers.
Himachal Pradesh Chief Minister Sukhwinder Singh Sukhu and his Jharkhand counterpart Hemant Soren also left with Shivakumar and Surjewala for Saturday's event.