India-US indispensable partners, working closely on more issues: Antony Blinken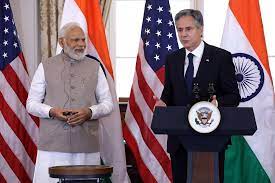 Washington, Jun 24 (PTI) The relationship between India and the US has transformed in the last two-and-half years making them indispensable partners, US Secretary of State Antony Blinken has said.
Speaking at a luncheon hosted in Prime Minister Narendra Modi's honour at the White House on Friday, he said from semiconductors to space and from education to food security, India and the US are working closely together on more issues than ever.
Modi is on a State Visit to the US from June 21-24 at the invitation of President Joe Biden and First Lady Jill Biden.