Gurugram man seen drinking, doing push-ups on top of moving car in video, police lodge FIR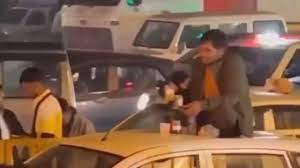 Gurugram, May 30 (PTI) A man was detained for being involved in an incident where four persons were seen drinking, dancing and doing push-ups on top of a moving car in the city, officials said.
Two videos of the incident surfaced online, following which city police slapped a fine of Rs 6,500 on the owner of the car.
"A challan for amount Rs 6,500 has been issued against the violator. We request all road users not to put their own and others' lives in danger by violating traffic rules," city traffic police said.