German defence major TKMS and India's MDL sign pact eyeing Indian Navy's Rs 43,000-crore submarine project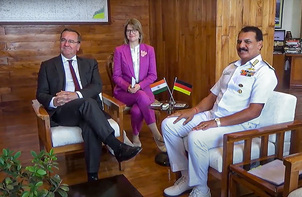 New Delhi, Jun 7 (PTI) Eyeing the Indian Navy's Rs 43,000 crore contract to procure six stealth submarines, German defence major Thyssenkrupp Marine Systems (TKMS) and state-run Mazagon Dock Shipbuilders Limited (MDL) signed a framework agreement on Wednesday to bid for one of the biggest "Make in India" projects.
The memorandum of understanding (MoU) was signed in Mumbai in the presence of German Defence Minister Boris Pistorius.
The MoU was signed a day after Pistorius held wide-ranging talks with Defence Minister Rajnatjh Singh, following which he said TKMS is well-placed to execute the mega project.