Authorities bulldoze structures used for pelting stones during Nuh clashes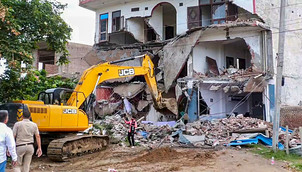 Gurugram, Aug 6 (PTI) Haryana authorities Sunday razed several illegal structures in the violence-hit Nuh district including a hotel-cum-restaurant from where stones were allegedly pelted on a religious procession during the clashes early last week, officials said.
This is the fourth day of demolition drive in Nuh with the district administration saying they have identified 16 illegal structures which will be bulldozed on Sunday.
Sub-divisional Magistrate Ashwani Kumar said these structures were built illegally were used by "hooligans" to throw stones during the recent violence.