Adheenams hand over 'Sengol' to PM Modi on eve of new Parliament building inauguration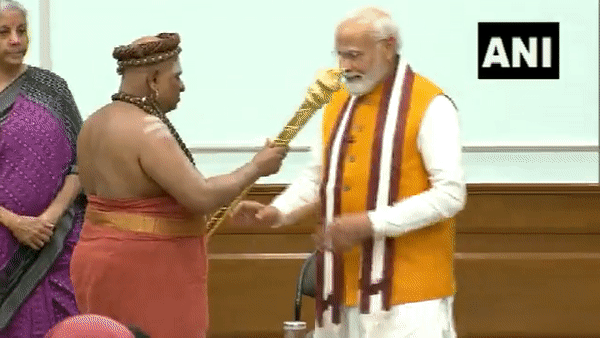 Prime Minister Narendra Modi on Saturday met the Adheenam priests and took their blessings at his official residence in New Delhi a day before the inauguration of the new Parliament building. Prime Minister Modi was also presented with the sceptre 'Sengol' which will be installed near the Speaker's seat in the new Parliament. The Adheenams also presented a special gift to the prime minister.Made of silver and gold, the five-feet long sceptre was handed over by Lord Mountbatten to Pandit Jawaharlal Nehru on August 14, 1947, as a symbol of the transfer of power, according to the government. The Sengol, a symbol of governance in Tamil kingdoms of yore, was then kept for display in The Allahabad Museum.The sceptre triggered another political controversy over the inauguration of the new Parliament, with the Congress questioning the government's assertion that it was used to symbolise the transfer of power at the moment of India's Independence, and the Bharatiya Janata Party (BJP) dismissing the criticism saying the opposition party disliked Indian culture.

The Congress questioned BJP's version, saying though the sceptre was crafted in Madras and presented to Nehru in 1947, it had no connection to the freedom movement or India's Independence.
"There is no documented evidence whatsoever of [Louis] Mountbatten, Rajaji (C Rajagopachari) and Nehru describing this spectre as a symbol of transfer of British power to India. All claims to this effect are plain and simple bogus," tweeted senior Congress leader Jairam Ramesh.
Hitting back at the grand old party, Union home minister Amit Shah said, "Why does the Congress party hate Indian traditions and culture so much? A sacred Sengol was given to Pandit Nehru by a holy Saivite Mutt from Tamil Nadu to symbolise India's freedom but it was banished to a museum as a walking stick."
The opening ceremony is already mired in controversy after 21 opposition parties decided to boycott the high-profile event, contending that President Droupadi Murmu, being the head of the State, should do the honours instead of Prime Minister Modi.