Siddaramaiah, Shivakumar to be sworn in as CM, Dy CM this afternoon, 8 legislators to take oath as Ministers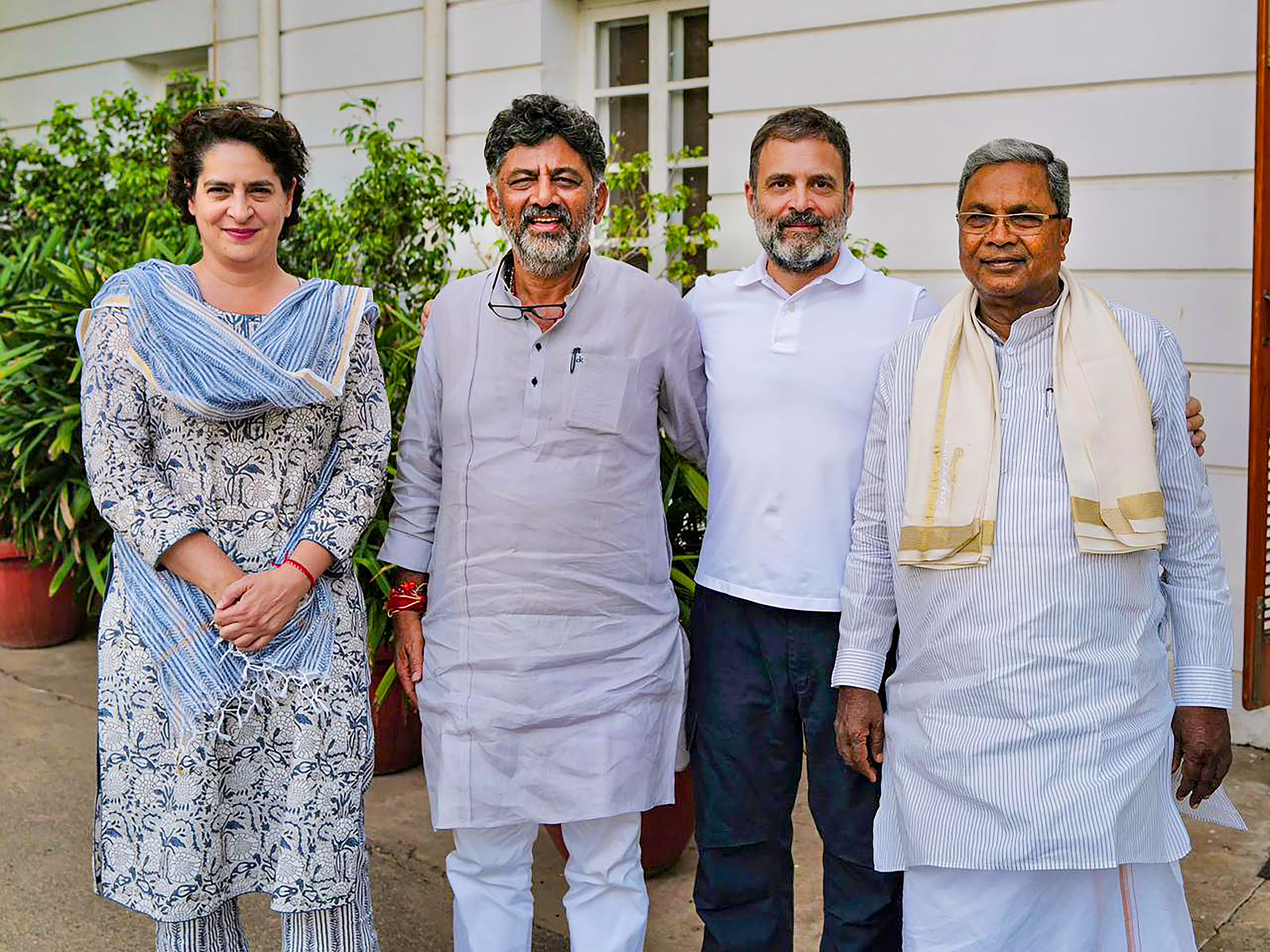 Siddaramaid and D K Shivkumar be sworn in as Chief Minister for the second term, along with state Congress President D K Shivakumar as Deputy Chief Minister, and eight legislators as Ministers on Saturday afternoon, exactly a week after the party swept the Assembly polls in Karnataka.
Siddaramaiah and Shivakumar, who were in Delhi till late Friday night discussing with the party's high command the names of ministers to be inducted into the new cabinet and the allocation of portfolios, have now returned to the city.
Siddaramaiah, who is the leader of Congress Legislature Party has written to Karnataka Governor requesting him to administer the oath to eight MLAs as Cabinet Ministers.
Legislators who will be sworn in as Ministers are: G Parameshwara (SC), K H Muniyappa (SC), K J George (Minority-Christian), M B Patil (Lingayat), Satish Jarkiholi (ST-Valmiki), Priyank Kharge (SC and AICC President M Mallikarjun Kharge's son), Ramalinga Reddy (Reddy), and B Z Zameer Ahmed Khan (Minority-Muslim).
Congress chief Mallikarjun Kharge has invited leaders of several like-minded parties for the swearing-in ceremony, which will see Governor Thaawarchand Gehlot administering the oath of office and secrecy to the Chief Minister and his Cabinet at 12.30 PM at Sree Kanteerava Stadium here.
The venue is the same place where Siddaramaiah took oath in 2013, when he became Chief Minister for the first time.
The event may turn out to be a show of strength for opposition parties amid unity efforts to take on the ruling BJP in the 2024 Lok Sabha elections.
The Congress on Thursday named Siddaramaiah as the next Chief Minister and Shivakumar, a strong contender for the top post, as his only deputy, ending the tense deadlock after prolonged parleys involving its central leadership.
A meeting of the Congress Legislature Party (CLP) later on Thursday formally elected Siddaramaiah as its leader and Chief Minister, following which he staked his claim with the Governor, who invited him to form the government.
The 75-year old Siddaramaiah will become the Chief Minister for the second term after his earlier five-year stint from 2013; while 61-year old Shivakumar, who had earlier worked as Minister under Siddaramaiah, will also continue as the party's Karnataka state president till Parliamentary elections next year.
The first daunting task that Siddaramaiah is expected to face is putting in place a Cabinet with the right combinations that will strike a balance in having representatives from all communities, regions, factions, and also from among the old and new generation of legislators.
With the sanctioned strength of the Karnataka Cabinet being 34, there are too many aspirants for ministerial berths.
Kharge, former Congress Presidents Sonia Gandhi and Rahul Gandhi, also General Secretary Priyanka Gandhi, several Congress Chief Ministers and leaders are expected to attend the event.
Kharge has invited Tamil Nadu Chief Minister M K Stalin, West Bengal Chief Minister Mamata Banerjee, Bihar Chief Minister Nitish Kumar and Deputy Chief Minister Tejashwi Yadav, NCP chief Sharad Pawar, former Maharashtra chief minister Uddhav Thackeray. Invitations have also been sent to National Conference chief Farooq Abdullah and Jharkhand Chief Minister Hemant Soren, among others.
Many of them have arrived or have sent in representatives on their behalf.
Expectations are also that at the first cabinet meeting after the swearing-in, the new government might take measures to implement the five 'guarantees'.
The Congress has promised to implement the 'guarantees' — 200 units of free power to all households (Gruha Jyoti), Rs 2,000 monthly assistance to the woman head of every family (Gruha Lakshmi), 10 kg of rice free to every member of a BPL household (Anna Bhagya), Rs 3,000 every month for graduate youth and Rs 1,500 for diploma holders (both in the age group of 18-25) for two years (YuvaNidhi), and free travel for women in public transport buses (Shakti), on the very first day of assuming power in the state.
"Fulfilling the promises made to the people is our first priority," the Deputy Chief Minister-designate Shivakumar said on Friday.
Elaborate security measures have been put in place in and around the venue to ensure that the event goes on smoothly without any hurdles amid the presence of several national level leaders and those from other states, officials said, adding that traffic movement will also have to be managed as the event will take place in the heart of the city.
According to sources, a total of three platforms/ stages have been set up and LED screens have been installed for people to watch the swearing-in ceremony. PTI KSU RS KSU .