Gangster-politician Mukhtar Ansari gets life term for 1991 murder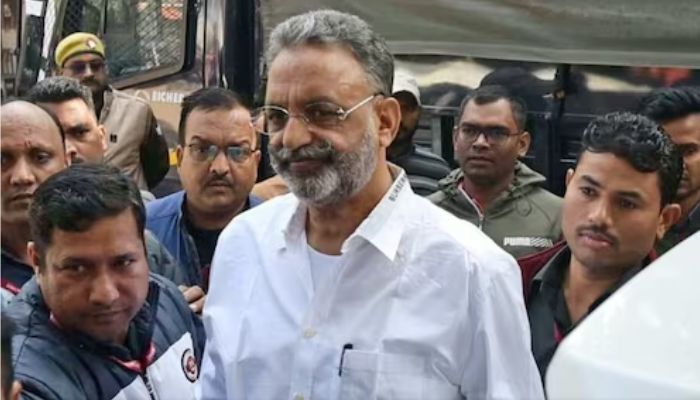 Lucknow, Jun 5 (PTI) A court in Varanasi on Monday sentenced gangster-politician Mukhtar Ansari to life imprisonment for the murder of Awadhesh Rai, the brother of a Congress leader, more than 30 years ago.
Awadhesh Rai, the brother of former MLA Ajay Rai, was shot dead on August 3, 1991, at the gate of his Lahurabir residence in Varanasi. A case was registered against Mukhtar Ansari and others.
The MP-MLA court's special judge Avanish Gautam awarded life sentence to Ansari in the case, a lawyer told reporters outside the Varanasi court.
Reacting to Ansari's conviction earlier in the day, Ajay Rai said, "This is the end of our many years of waiting. I, my parents, Awadhesh's daughter and the whole family kept patience... Governments came and went and Mukhtar strengthened himself.
"But we did not give up. Because of our lawyers' efforts, today the court has found Mukhtar guilty in the murder case of my brother," Rai added.
Lawyers said that around 1 am on August 3, 1991, Congress leader Ajay Rai and his brother were standing at the gate of their house in Varanasi when some assailants, including Ansari, came there in a car and shot Awadhesh.
Ajay Rai fired from his licensed pistol in retaliation, following which the assailants fled, leaving the car behind, they said. Awadhesh was rushed to a hospital in Kabirchaura, where doctors declared him dead.
Ansari, a five-time MLA from Mau Sadar seat, did not contest the 2022 Uttar Pradesh Assembly election and the seat was won by his son Abbas Ansari on a ticket from the Suheldev Bharatiya Samaj Party, which had tied up with the Samajwadi Party. PTI ABN.