Gang training men to become 'undercover' agents busted in Delhi; three arrested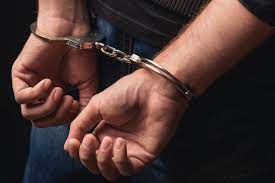 Chaudhary posed as a Deputy Superintendent of Police, Kumar posed as a Sub-Inspector of DCI, and Kaushik posed as their subordinate. They had been running the racket since 2021 and took the premises on rent in 2022
Delhi Police's Crime Branch has arrested three men including one who impersonated a DSP to dupe lakhs from unsuspecting people promising them a job in a 'Department of Criminal Intelligence' -- a made up name -- under the Ministry of Home Affairs, a senior officer said on Thursday.
Ashish Chaudhary, 27, created a fake government website in the name of 'Department of Criminal Intelligence', or DCI, while his associates, Govind Kaushik, 33, and Amit Kumar, 34, helped him set up a fake training centre at Jaffarpur Kalan village, police said.
They recruited several youths for the post of constable, office assistant, clerk etc and collected around Rs 5 lakh each from them, police said.
Chaudhary posed as a Deputy Superintendent of Police, Kumar posed as a Sub-Inspector of DCI, and Kaushik posed as their subordinate. They had been running the racket since 2021 and took the premises on rent in 2022.
According to police, they also promised their victims an assured promotion if they paid extra, and posting in Delhi for a little bit more. Chaudhary told the 'recruits' that they would be undergoing a secret training to become undercover agents. He made them believe that if they disclosed this fact to anyone, they would lose their jobs.
He portrayed himself as a top undercover agent of the central government, and told his victims he had been delegated the recruitment task by senior IPS officers and officials of the MHA. Fake call letters were issued by him and fake identity cards were prepared.
Special Commissioner of Police (Crime Cell) Ravindra Singh Yadav said that Chaudhary's premises were raided on the basis of a tip-off. Eleven people in all, including one woman, were found training at the centre while Chaudhary was delivering lectures to them at the time of the raid, he said.
When he was asked about his credentials, Chaudhary said he was a DSP of the Department of Criminal Intelligence under the MHA, Yadav said. "During interrogation, he broke down and divulged that he is not even a matriculate but a conman running the fake employment racket. He cheated several candidates for the post of constable, office assistant and clerk after collecting around Rs 5 lakh from each candidate," he added.