Congress forms political affairs committee for poll-bound Chhattisgarh, Kumari Selja to head it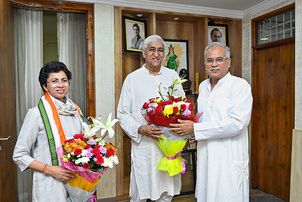 New Delhi, Aug 17 (PTI) The Congress on Thursday formed its political affairs committee for poll-bound Chhattisgarh with general secretary Kumari Selja as its chairperson.
Chief Minister Bhupesh Baghel and Deputy Chief Minister T S Singh Deo are among its members.
"The Congress president has approved the proposal for the constitution of the Political Affairs Committee of the Chhattisgarh Pradesh Congress Committee with immediate effect," according to a party statement.
State party president Deepak Baij, senior leaders Charan Dass Mahant, Tamardhwaj Sahu, Ravinder Chaubey, Mohd. Akbar, Shiv Kumar Dahariya, Mohan Markam, Anila Bhendiya, Jai Singh Aggarwal, Dhanender Sahu and Satyanarayan Sharma are other members of the panel.
Saptagiri Sankar Ulaka, Chandan Yadav and Vijay Jangid are ex-officio members of the important committee.
Among the special invitees are Vikas Upadhyay, Rajesh Tiwari, Paras Chopda and the heads of Mahila Congress, Youth Congress, NSUI and Seva Dal.
Chhattisgarh goes to polls later this year and the Congress is seeking to retain power in the state. PTI SKC.