1.8 lakh Olive Ridley Turtles lay eggs on first day of mass nesting
Berhampur(Odisha), Feb 24 (PTI) Over 1.8 lakh Olive Ridley turtles laid eggs on the first day of their mass nesting which started near the mouth of Rushikulya river a month ahead of last year's season, forest officials said on Friday.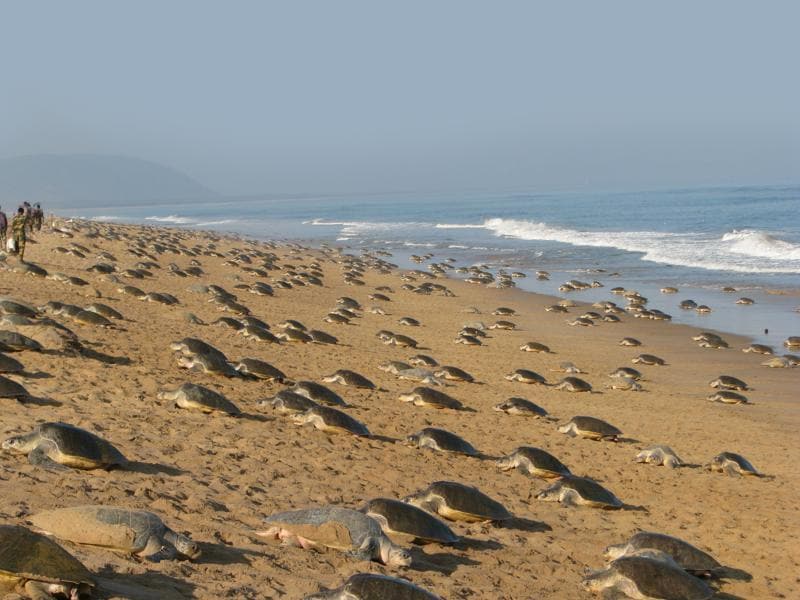 The mass nesting began on Thursday night and continued till Friday morning without a break when the sea turtles laid eggs in the four km stretch of the beach from Posampeta to Bateshwar, Berhampur divisional forest officer Amlan Nayak said.The mass nesting is likely to take continue for some more days, he said.
The annual nesting ritual takes place over a few days. This time, however, the sea turtles arrived a month earlier than the previous year, PTI quoted forest officials in a statement. "Odisha welcomes its annual guests. The mass nesting of Olive Ridley turtle has begun at Rushikulya rookery…. It's happening in day time again...Swagatam," Susanta wrote.
The video instantly went viral garnering over one lakh views. While some users were intrigued about the reason why the turtles turn up at the mouth of the Rushikulya every year, others were captivated by the sheer beauty of nature.
"Wow! What a scene to witness. So pleasing to watch," wrote one user.Netizens exhorted the importance of conservation to ensure the uninterrupted nesting routine of the turtles. "Conservation efforts paying off," a person commented.
Last year, a record 5.5 lakh Olive Ridley turtles nested on the beach between March 28 and April 4. According to PTI, wildlife experts believe that suitable climatic conditions and clean beaches contributed to the early nesting this year.Meanwhile, scientists of the Zoological Survey of India also found at least 17 adult female turtles they had tagged in the last two years.