Rahul no match for Narendra Modi, BJP will come back to power, says Yediyurappa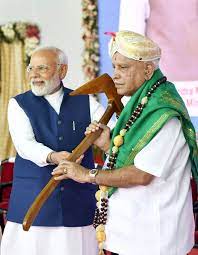 Bengaluru, Mar 30 (PTI) Karnataka BJP strongman B S Yediyurappa on Thursday said Congress leader Rahul Gandhi is no match for Prime Minister Narendra Modi and asserted that his party would come back to power with absolute majority.
The four-time Chief Minister also sought to reach out to Muslims saying the BJP government has not done "injustice" to the minority community.
He was referring to the recent decision of the state government to scrap four per cent reservation for Muslims under the Other Backward Classes (OBC) category and placing them under the Economically Weaker Sections (EWS) pool.